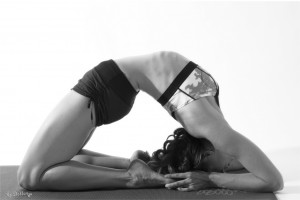 I was listening to Fresh Air recently, one of my favorite programs on NPR where Terry Gross interviews a variety of people from directors to musicians or other people in popular culture.  I was particularly interested in listening when I heard the episode would be about yoga.  "Many of yoga's truths go beyond the truth of science."  I perked up even further.  The person being interviewed was William Broad, Pulitzer Prize- winning science writer and author of a new book The Science of Yoga.   He mentioned that yoga is widely touted for its amazing benefits, but it does indeed have a dark side.  I am a firm believer in Ashtanga yoga, a dynamic and flowing yoga and incorporate some yoga in my practice of physical therapy.  I have done this type of yoga myself since 2002 and since I started #30min365, yoga has become a more regular weekly occurrence.
But what many do not know is that yoga can cause injuries and even very serious conditions if not practiced prudently.  This is what William Broad has spent many years researching -  not just injuries but the science behind yoga, good and bad.  As a part of rehabilitating people from injuries or helping them manage chronic conditions, I use elements of and poses from yoga, but this is after considering what my clients need based on physical testing.  I can say I'm not at all surprised by the fact that Mr. Broad found research that would warn most that there are risks to practicing yoga.  The head and neck were not built to handle the weight of the human body, the cartilage in your knees handles a certain level of twister-reminiscent stretches, and the lower back can only twist so far before something ruptures or bulges.  And who says this is good for anyone?!  There are certain poses that I would never ask my clients, or anyone for that matter, to do.  The shoulder stand or "plow" are two of them.  Though, I wasn't as aware of the research about yoga-induced strokes and brain injury as a result of these extreme positions of the head and neck.  Thanks, William Broad.   Many people take on yoga without carefully considering its effects on the body and without realizing that it could do harm.  I warn my patients about extreme postures and certainly poses to avoid based on my evaluation and their diagnosis.  I still practice yoga and advocate for it because of its stretching, strengthening, coordination, and balance components, but with caution as there are some aspects of yoga that can be harmful.  I look forward to reading more from The Science of Yoga.
This New York Times article based on an excerpt from William Broad's book, includes references to articles from medical journals as well as anecdotal stories of injuries sustained during yoga. Of particular note is his reference to normal range of motion/ flexibility in the cervical spine (neck) compared to the extreme positions of stretch in certain yoga poses. It's a MUST READ for anyone practicing yoga, considering it, or recommending it to others.