Physical therapists work in teams with other healthcare professionals to bring about the best patient care.  Many times to help a patient achieve his or her goals, a multidisciplinary approach is needed, and in my setting it mostly involves occupational therapy.  My Geaux to OT is Susan Fishbach.  Sue has helped many of my patients with swelling conditions and hand, wrist, elbow, and forearm musculoskeletal conditions.  Sue is not only highly skilled at what she does, but also extremely caring and compassionate, and I know when I send a patient to see her, the care will be exceptional.   I recently had a chance to pick her brain about occupational therapy, her experiences through the years, and her relationship with physical therapists.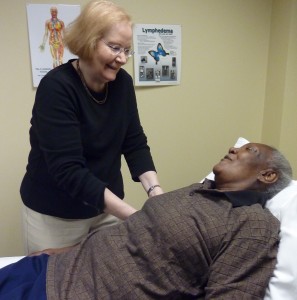 How long have you been practicing OT?
I have been practicing O.T. for 35 years. I graduated from the University of Pennsylvania School of Allied Medical Profession, May, 1975.
Why did you become an OT?
I became an OT for several reasons. I really enjoy working with people and also had always wanted to become a teacher growing up.  This   profession combines both of my ambitions working with people and teaching.
What setting do you practice in?
I practice OT in an outpatient clinic setting in Milwaukee, Wisconsin where I am fortunate to work with a wonderful, skilled team of professionals (OT's PT's and Speech Pathologists).
What are your clinical areas of expertise?
I have several areas of expertise in OT: I have a clinical specialty in arthritis which was achieved through my Master of Science Degree. Another specialty is in Lymphedema/Edema which I was certified in during 1995 and 1996.  Lymphedema is the abnormal accumulation of fluid that causes swelling most often in arms or legs. The condition develops when lymph nodes are missing, impaired, damaged or removed.  The third area of expertise is in upper extremity orthopedics.
How would you define Occupational Therapy?
Occupational Therapy is an allied health profession that promotes health by enabling people to perform meaningful and purposeful activity to help them achieve quality of life.  For example, OT's may work with upper extremities to increase motion, strength, dexterity and sensation so the person may perform self-care activities independently.  OTs work to promote health, prevent injury and disability, and develop, improve, or restore the highest possible level of independence of each client.
What is the difference between Occupational and Physical Therapy?
I am asked this question very often. Occupational Therapy assists individuals in performing tasks in their daily living and work environments to increase safety and functional ability. They work with people who have disabling physical, mental, social, or emotional problems and assist them in achieving a high level of function in those areas. Physical Therapy focuses on walking, balance, and general movement.  PTs work with the lower body, back and neck. They provide services where function has been impaired by injury, disease or environmental factors. They , too help to restore physical, social, emotional and pyschological well-being of a client.  Their goal is to restore mobility and functional ability to a specific body part. Both OTs and PTs work as a "team" to achieve the highest level of function for the client.
How are you celebrating Occupational Therapy month?
I am celebrating O.T. month by raising money for cancer research.  We all have been touched by cancer in some way whether by our own health, a family member, friend, or patient we have treated.  I feel very strongly that a cure for cancer is in our near future and that by raising money for cancer research we can one day find a cure. I will be in Washington, DC in May for The Race for Hope a run/walk for brain cancer research and the Relay for Life a cancer walk in June, in Milwaukee.
The AOTA brand tagline is "Living Life to IT's Fullest."  How have you helped your patient do just that?
I feel that every one of my patients whether they have Lymphedema, arthritis or a fracture, want to be able to live their life to the fullest.  My goal is to work with each one to accomplish their goals whether its pain relief, decrease swelling or increase strength in an arm or hand. Ultimately, they want to regain control/independence in their life.  By assisting them in attaining their goals they are able to regain satisfaction and quality in their life.
In your years of practice, what is the most interesting goal you have helped a patient achieve?
I recently had a wonderful patient, a businessman who had a malignant brain tumor. His goal was to be able to button his dress shirt independently
so he could attend a company board meeting. He did achieve his goal!
If there was one piece of advice you could give to someone going through occupational therapy what would it be?
Appreciate every accomplishment made in OT however large or small that brings you closer to achieving your goals.  Remember that each day is a gift so live your life to its fullest!!
We've heard you're a bit of an American Idol fan..Who's your pick to win it all?
My pick is Lee Dwyze, a rocker from Chicago.
You can find Susan at HealthReach Rehabilitation Services 414-964-4777.